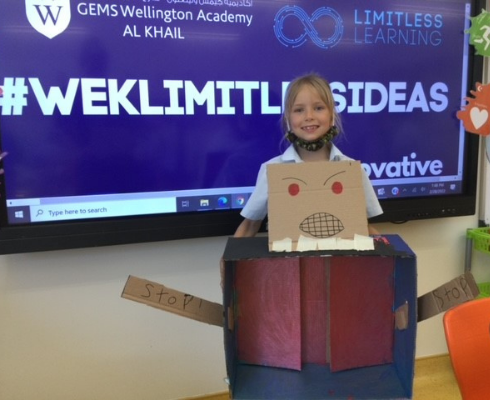 Future-Focused Learning Empowers WEK Students
Students at GEMS Wellington Academy – Al Khail are gaining enhanced real-world, practical business skills thanks to a strategic partnership between the school and innovative education platform 8billionideas that focuses on weaving entrepreneurship and social enterprise into core curriculum subjects.
The new partnership is part of the school's future-focused 'Primary Connected Curriculum' approach, which provides all students with the opportunity to learn contemporary world-of-work skills and make clear connections between what they learn in class and how it can be applied practically in real-world contexts.
The launch of the programme at GEMS Wellington Academy – Al Khail has augmented the school's existing curriculum, supporting teachers to deliver classes in an increasingly dynamic and engaging way.
In Geography, for example, a class learning about a specific region will benefit from extra guidance from an 8billionideas facilitator as their learning is enhanced by exploring how to create a tourist brochure and marketing campaign for the region, and analysing potential risk factors for the environment against the demands of the economy.
In addition, by leveraging 8billionideas video resources and live mentor sessions from certified mentors, teachers can bring real world-of-work concepts into the classroom to prepare students for the future.
Ben Cooper, Primary Principal, GEMS Wellington – Al Khail, said: "We are enhancing the student experience by providing rich opportunities for students to use their subject knowledge to create, innovate and solve real-life problems through entrepreneurial activities and topics. By aspiring, creating and excelling in the world that is, we ensure students will be equipped to create the world that will be."
The programme has initially been introduced to Years 1-6 with age-appropriate content for each pathway. Students will develop individual and joint projects as well enter a Primary-wide competition to create a 'world changing idea'.
In the final term this year, 8billionideas is working with secondary pupils exploring entrepreneurship with a focus on the Sustainable Development Goals of 'Life on Land' and 'Life Below Water'.