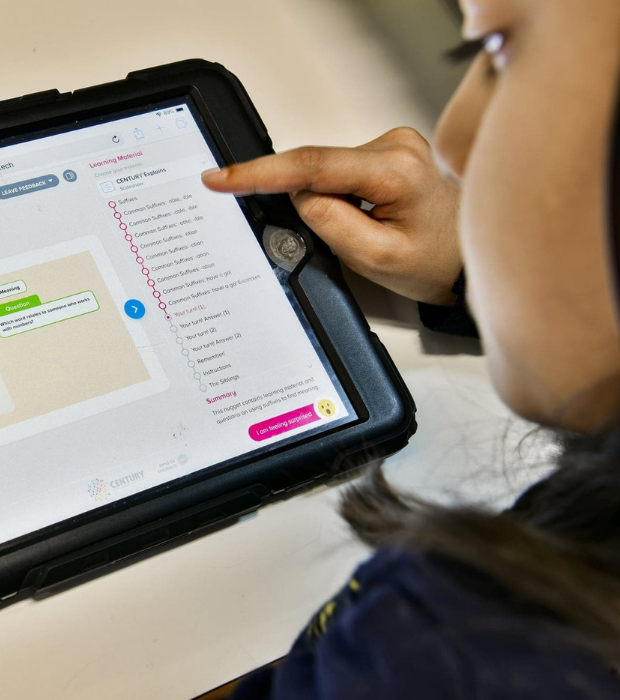 CENTURY Online Learning Tool
Partnership with CENTURY technology
GEMS Wellington Academy - Al Khail is very excited to announce the partnership with CENTURY technology, which we have introduced to the children of KS2 and Secondary over the past couple of weeks. This is an exciting next step The Academy is taking to ensure we are delivering a world class education to all children.
What is CENTURY?
CENTURY is an online learning tool for students in KS2 and Secondary. It focuses on the core British Curriculum subjects – English, Maths and Science and combines artificial intelligence with the latest research in learning science and neuroscience to ensure learning is as effective as possible. The platform identifies every student's strengths, gaps in knowledge and misconceptions. Students can log in and complete work that has been suggested for them by the advanced recommendation engine, or work which has been set by teachers. It allows students to take control of their own learning both in and out of school while allowing teachers to get real-time data on progress, meaning they can quickly identify which students need support or additional challenge in lessons.
What does this mean for the students?
CENTURY will complement existing teaching and home learning options. Teachers have the freedom to decide how they incorporate CENTURY and can use the data it provides to continue to personalise learning. It also means that families can focus on key areas of learning with their children at home based upon their next steps and targets. The platform is also very similar to the way GL Progress Tests are delivered at the end of each academic year meaning students will be far more confident when approaching these assessments.
Accessing CENTURY
Students are able to access CENTURY anytime and anywhere. It is available to them in school and also at home. All they need to do is visit the CENTURY website and enter their unique login details. Their login details will be shared with you by your class teacher. The website can be accessed from tablets and laptops on up-to-date versions of most common browsers. The best browsers are Chrome on PCs and Android devices and Safari on iPads.
How do I find out more?
Century hosted a brilliant online workshop for KS2 parents on Wednesday 7th October at 4pm.
Watch below
More on Innovation at WEK