The Science of Teaching and Learning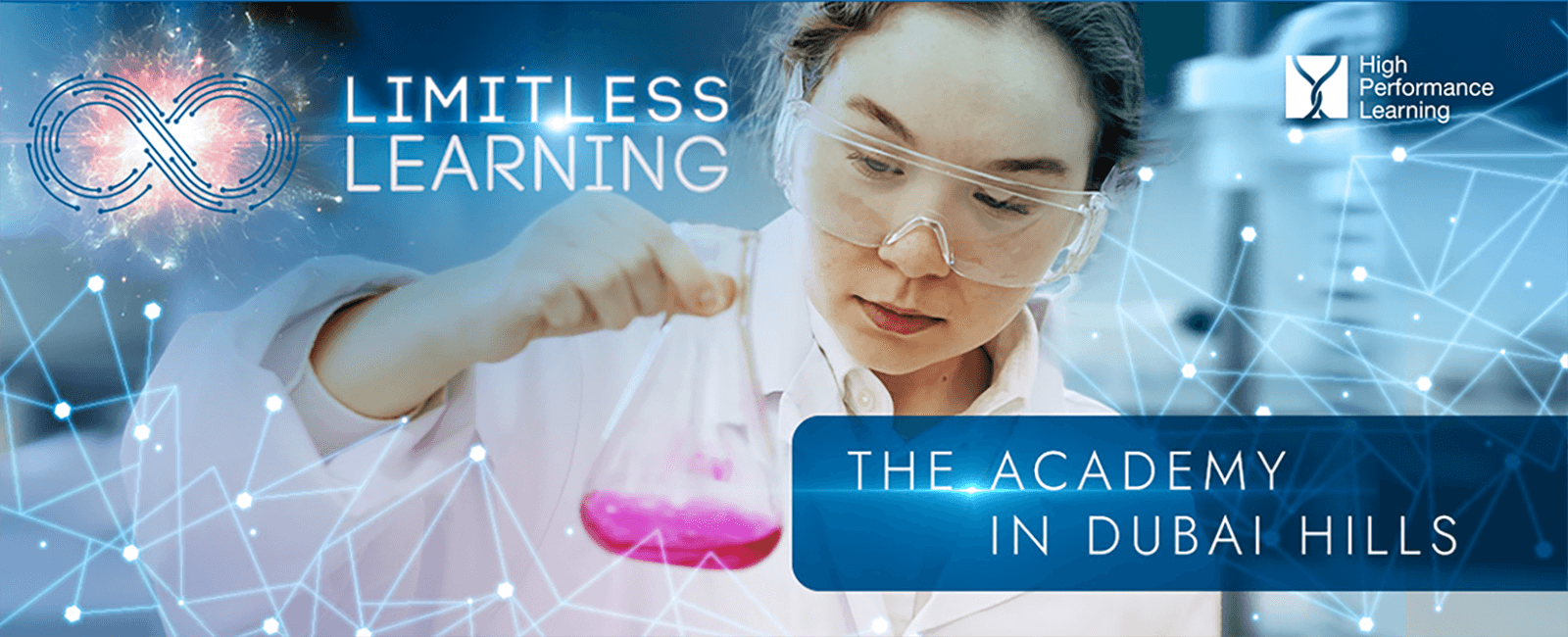 GEMS Wellington Academy Al-Khail (WEK) offers the National Curriculum for England and is part of the highly acclaimed group of GEMS Wellington schools in the GEMS network. Located in the prestigious Dubai Hills community, we inspire future leaders through creative teaching and learning.
The Science Of Learning
Implementing outstanding teaching and learning

Understanding how the brain learns best to maximise learning opportunities

Placing evidence-informed practice at the heart of what we do
Social Enterprise
Embedding the United Nations Sustainable Development Goals

Understanding our responsibility to the common good of humanity

Thinking and acting in entrepreneurial and enterprising ways
Student Agency
Personalisation of learning experiences

Voice, choice and ownership

Finding our purpose
We are enhancing the way we teach our students and support our parents. At The Academy, teaching and learning is based upon research which maximises students' long term memory and making learning more effective.
Our teachers will be one of the first group of teachers to receive direct training on how the brain learns through engaging with the latest Neuroscience research. Our full Leadership Team is also first in the UAE and World to be accredited with Evidence Based Education's – The Science of Learning programme.
The Academy provides a full range of pathways for students. With bespoke learning pathways on offer, our secondary students work towards significant curriculum standards to ensure they are ready for their GCSE or ASDAN examinations at the end of Year 11. We then offer A Level or BTEC pathways with unique subject choices at Post-16.
At The Academy, your child will work towards and will have access to the first Football and Swimming Elite Sports programme in the UAE run for Post 16 students. We offer tailored elite level performance training and sports science education that will help our students secure internships and give them first-hand experience of the sports industry.
We want our students to believe and know that they can achieve anything! Our students at Post-16 are taught by experienced and specialist IBTEC and A level teachers from the UK.
All students have a personal tutor in a vertical tutor group system to support them with their pastoral care ensuring they feel ready and equipped to learn and succeed in the future.
At The Academy, our Early Years Centre is based upon the latest research in child development. Our specialist Early Years Teachers know exactly how to engage and inspire our youngest students through purposeful play in order to maximise their learning potential.
Our Teachers are one of the first groups to receive direct training on neuroscience and our full Leadership Team is also first in the UAE to be accredited with Evidence Based Education – The Science of Learning programme.
We are the first Academy in the UAE to develop a Year 6 Transition Hub. We ensure that every child is fully prepared to begin their Secondary education.
The Year 6 Enrichment Programme allows students to discover and learn more about the various academy pathways through hands on experiences.
The purpose-built transition hub helps our students develop dreams for their future at the academy through programmes associated with the Science of Learning, Social Enterprise, Student Agency and Innovation.
The Academy Breakfast Club
Good nutrition is so important for learners to be successful. To support an early morning drop-off for families, parents to register for The Academy Breakfast Club in the Dining Room for 7am each day.
Students can bring their own food or select from the canteen's breakfast menu. Student are supported in making their way to their classroom full of energy ready for day of learning.
An exciting and engaging extended care programme for our Primary pupils which builds on the key skills that form the foundations of child development, free of charge.
Post 16 Offerings
A purpose-built Post 16 Centre with stimulating core enrichment programme linked to businesses and universities
Widest range of unique Post 16 offerings in Dubai
Broad range of options including industry placements in Biomedical Science, Computer Science and Entrepreneurship
World-class on-site Careers and university advisor, with expertise of universities and alternative pathways around the globe
University-Level Innovation Programmes
GFC, GIC, FutureTalks, Awecademy, including the Academy Honours Programme available exclusively to our students.
The Academy Difference
A Premium British Curriculum School in the heart of the Dubai Hills Community
Our leaders and teachers are one of the first groups to receive direct training on neuroscience and how students learn and retain information best.
Our students perform above National and International expectations across all subjects
Some of the best exam results for both A-Level and GCSE exams, as well as the highest value-add scores for any premium British school in Dubai
An aspirational multi-cultural learning community which embraces the use of world-class facilities and specialist teaching
A truly inclusive educational ethos which values the strengths, talents and interests of every student
An extensive offer of enrichment and wellbeing activities both within and beyond the curriculum
A wide range of student leadership opportunities from FS to A level – Our student council drives school improvement
Our World Class Facilities
Auditorium and Theatre
Cafeteria
Libraries and Study Zones
Full Football and Rugby Pitches
Two Gymnasiums and Health Centre
Two 25 Metre Swimming Pools
Early Years Pool
Dance Studio
Medical Centre
Sixth Form Centre
Early Years Centre
Year 6 Transition Hub
Science and Technology Labs
Recording and Film Studio
Indoor and Outdoor Covered play areas
Music, Art, Design and Drama Studios