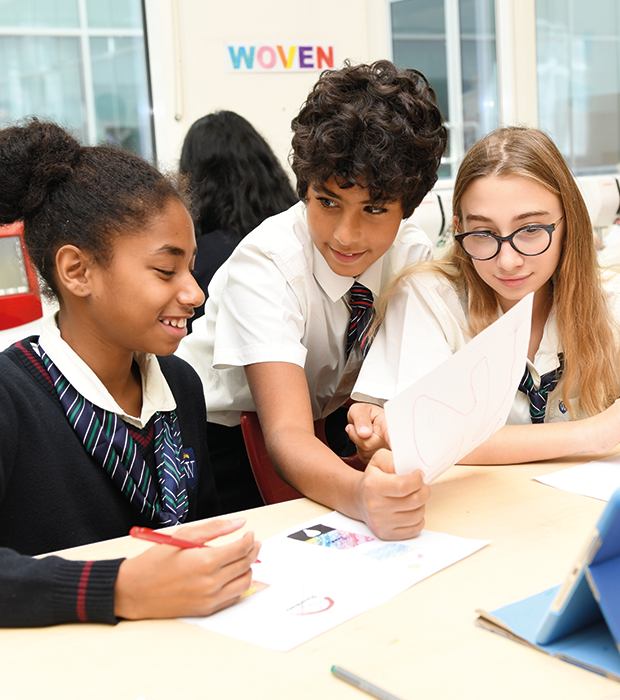 Admissions Process and Overview
Admission Overview
At GEMS Wellington Academy - Al Khail we follow the National Curriculum for England and Wales and the academic year runs from August to June. Children can be admitted during the academic year if a place becomes available subject to KHDA guidelines. GEMS Wellington Academy provides an outstanding education for children aged 2 – 18 years.
Registration is now open for the 2024-25 academic year.
How to begin your child's registration
Easily secure your child's place with a few easy clicks. To start the school application process for GEMS Wellington Academy - Al Khail, please fill out the enrolment form below.
Complete the Online Registration form here.
An acknowledgement will be sent containing the next steps of the registration process, and someone from our Registration Team will contact you.
The Academy Registration Team will be happy to assist you through the admission process, enrolment and classroom scheduling. Parents can meet our team at any time between 7:30am and 4:00pm from Monday to Thursday and 7:30am to 12:00pm on Friday.
Mrs. Lene Dorrian Heum
Registrar
Admissions Process
Parents who wish for their children to be registered at GEMS Wellington Academy - Al Khail must complete an online application form and pay a non-refundable fee of AED525. Application fees are accepted in the form of AED cheques, cash, credit/debit cards or bank transfer. Click here for more information about the admissions process and required documentation.
Entry Criteria
GEMS Wellington Academy - Al Khail prides itself on an admission policy that does not discriminate against any child or family. All children are welcome to apply to GEMS Wellington Academy, regardless of nationality, ethnicity or religion.
Foundation/Primary/Secondary reports from previous schools/nurseries will be reviewed by the academic teaching staff and if deemed necessary, may be followed by an assessment or interview.
Transfer Letter
After your child has received an offer to join GEMS Wellington Academy - Al Khail we request the Transfer Certificate from your previous school.
The original Transfer Certificate must be on official school letterhead. This form must be typed, signed by the Principal and show an official school stamp.
The Transfer Certificate of students from schools located in any country other than Australia, Canada, Europe, New Zealand, USA and UAE, MUST be in English or Arabic and attested by:
Ministry of Education
Ministry of Foreign Affairs
UAE Embassy
Attestation is required for GCC countries from the Ministry of Education only.
The Transfer Certificates within Dubai Schools are done electronically and other Emirates transfers still need to be attested by Ministry of Education only.