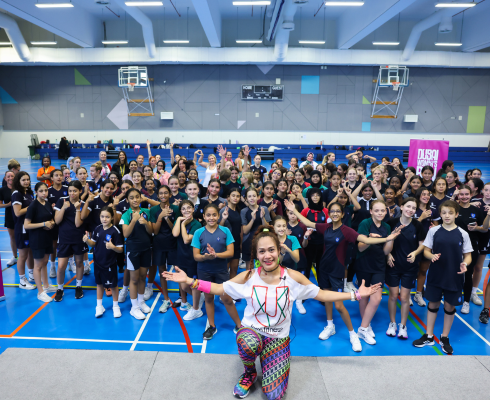 WEK Power Hour initiative by Dubai Women's Run
On September 22nd, 2023, an unforgettable event unfolded at GEMS Wellington Academy Al Khail. Over 120 participants from the vibrant Wellington cluster came together for the "Power Hour" – a fitness initiative like no other. This all-female, inclusive workout session was designed to prepare and inspire participants for the upcoming Dubai Women's Run.
The atmosphere was electrifying as our female families, secondary students, and dedicated staff members stood side by side, driven by a common goal of promoting health and wellness. Expert trainers led the way, guiding everyone through an invigorating workout that pushed the limits. The event was filled with enthusiasm and support, and with participants encouraging each other every step of the way.
The Power Hour was more than just a fitness session; it was a celebration of strength and unity that flows through the spirit of our Wellington community. It was a powerful reminder of what can be achieved when a diverse group comes together with a common purpose. It was a day of empowerment, unity, and celebration, and the lessons learned, and the bonds forged that day would continue to resonate throughout the Wellington cluster, encouraging an empowering community and a commitment to health, wellness, and unity.
You can read more about our Power Hour on the following local media articles:
The Fashion With Style article