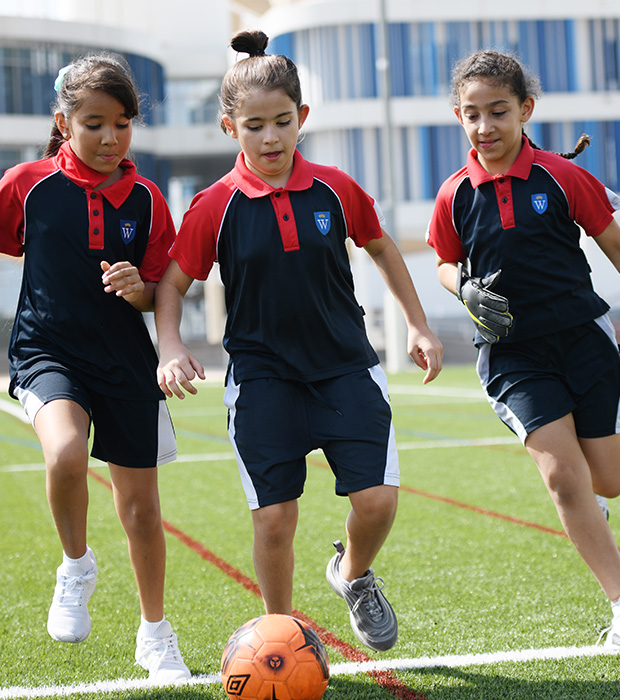 Extra-Curricular Activities
The After School Activities program offers students from FS2 to Year 11 the opportunity to participate in a wide variety of extra-curricular activities (ECAs) aimed at engaging, developing skills and further enhancing their learning journey. ECAs are run free of charge by our teachers, 3 days a week, and all students are encouraged to participate in at least one ECA activity each term.
FS2 ECAs will run from 3:00 – 3:45PM (Monday - Wednesday)
Primary and Secondary ECAs will run from 3:10 – 4:10 PM (Monday - Wednesday)
External ECAs will run Sunday – Wednesday 3:10- 4:10 PM and on Thursday from 1:10-2:10PM
Children can sign up to an activity per day, Monday to Wednesday, free of charge, as well as any number of external clubs, which incur an additional charge. Bookings are made through www.schoolsbuddy.com for internal clubs, while parents contact the external providers directly. The ECA clubs change every term but below are a few examples of what we offer:
Creative activities – art and design, photography, robotics, jewellery making, Arabic language club, book club, Islamic club, music, drama, dance, cookery, Scholar's Cup, ICT
Educational activities – mayhem maths, handwriting, power reading, phonics boost activities, English Intervention
Action/sport - football, cricket, basketball, netball, swimming, rugby, rock climbing, Tri Kids
Alongside ECAs we also provide Paid External Activities (ASAs) which are led by professional instructors hired by external providers, ESM and Delta, that work under the GEMS regulation and standards.
ESM are an international sports management company governing all sports provisions in school. Through a combination of internally delivered sports and activities and externally governed providers, ESM is as a premium sports coaching service.
Hamilton Aquatics
Basketball
Gymnastics
It's Just Football
Tennis 360
Budo Juko Karate
At DELTA Learning, we provide all our students the opportunities to discover and develop their strengths. We deliver an exciting instructional programme, which deepens academic learning.
Chess
STEM Robotics, Coding, 3D Printing and App Development
UDO Street Dance
Blended Math and English
For general enquires about ESM (sports activities)
Contact: [email protected]
Visit: www.esm.ae
For DELTA activities (academic and offsite activities)
Contact: [email protected]
Visit: www.deltalearning.ae
Frequently Asked Questions
Can I pay for the ASA club at school?

No, all payments are made directly to the ASA providers.

What is the difference between ECAs and ASAs?

ECAs are free activities run by our teachers Monday to Wednesday, whilst ASAs are paid activities run by external providers every day of the week.

Are ASAs run inside the school?

Most of the activities run inside the school, some activities are provided offsite.

How can I sign my child up to an ECA/ASA?

A list of ECAs/ASAs and an information letter are sent to parents every term which will contain all the information about the ECA and ASA offerings and how to sign up. Parents are encouraged to discuss with their children what activities they would like to attend for the term. Sign up is done through the website www.schoolbuddys.com for both internal and external activities, or directly with the providers for the external activities. The system operates on the first come, first served basis so our most popular activities will fill up quickly.

How will I know if my child has been successfully signed up to an ECA?

You will receive a confirmation email once you have completed the sign up.

Can my child choose an activity every day of the week?

Yes, children can choose an activity 5 days a week, 1 activity per day.

My child hasn't managed to sign up to their favourite activity, is there a waiting list?

Yes, all ECAs have a waiting list and parents will be contacted if a place becomes available. If a place doesn't become available and the same ECA is run again next term those students are placed in that ECA prior to the sign up.

How can I cancel and ECA/ASA?

If you wish to cancel an ECA, please contact Verity Howarth, our ECA Coordinator ([email protected]). If you wish to cancel an ASA, please contact ESM directly at 4 369 7817.

Does the school provide transport after the ECAs/ASAs?

No, the school does not provide bus transport after the ECAs/ASAs.

What time shall I collect my child on the day that he has an ECA/ASA?

For ECAs , students need to be collected at 4:10PM Tuesday to Thursday.

Where do I collect my child after the ECA/ASA ?

All FS2 students will be collected from the FS Reception desk.

Primary students will be collected from the classroom where the ECA is taking place.

Secondary Students will meet the parents in Secondary Reception.

Pick up for internal and external sporting ECAs will be outside at Gate 19/20 near the back of the sports field.

It is very important that all parents/guardians collect the students promptly at the end of the ECA. Failure to do so might result in the student being removed from the ECA.

To assist you with the pick-up locations for Primary ECAs, maps will be placed in and around the main reception

Who can I contact if I have any questions in regards to ECAs/ASAs?

At the Academy, the main point of contact is Verity Howarth, our ECA Coordinator ([email protected]).