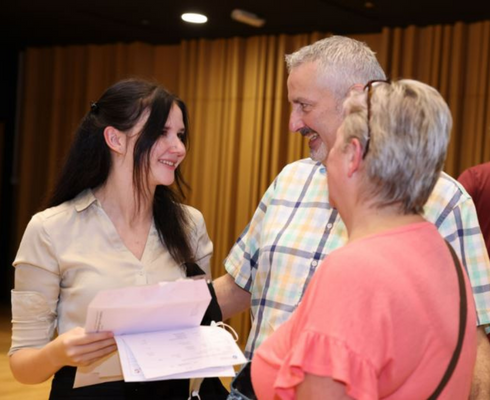 WEK Students Celebrate Excellent A-Level Results
Our Year 13 students received their final A Level and BTEC results today and it was another excellent set of grades. 74% of subjects achieved an impressive A*- A, 87% of students achieved grade A* - C with a 100% pass rate across all subjects. 95% of students planning to continue their studies next year are studying at their first choice of University, with another 5% offered their insurance place and 14% of our students are going on to top Russell Group Universities from 38% of Russell Group offers.

Outstanding results include Mira Said achieving 3 A* grades, Sophia Siddiqui achieving A*AA, Jan Springer A*AA, Salma Hilal 3 A's, Mohamad Omar A*AB and Aryan Soni AAB & an B in his EPQ. Our BTEC topper was Juma Al Falasi achieving 3 Distinctions.
"I'm really excited that I got the grades I was anticipating which will allow me to attend Kings College London," said Mira, adding, "I've been a student at WEK since it opened and I'm happy I have been able to end my journey there as well. I'm glad I was able to make my teachers and WEK proud."

Mr. Moriarty, Assistant Principal (Post-16), commented, "Our Year 13 students have yet again made us very proud. Over the past two years our A Level & BTEC students have grown in confidence as they have progressed academically, socially and as leaders within the school and they can now look forward to a bright future at university and beyond. Their excellent results confirm that the class of 2022 have worked incredibly hard over the last 2 years and deserve considerable praise for their efforts. The outstanding commitment of the WEK staff and parents has been reflected in their overall results."