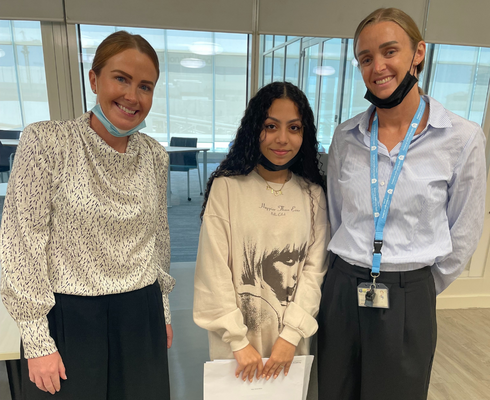 Exceptional GSCE Outcomes for WEK Students
It was a phenomenal day for WEK students who achieved top grades in their GCSE's. Here are the highlights:
• Outstanding results with 75% of all entries being Grade 6 and above.
• 94% of students received a Grade 6 or higher amongst their results and 59% achieved a phenomenal Grade 9 or 8.
• 54% of all entries were at Grade 7 and above (Grade A).
"As a group who have been through a turbulent time educationally over the last two years, we are so proud of what our students have attained," says Principal Campbell Douglas, adding, "Their tenacity and determination to achieve to the highest standard is reflected in these results. Thanks, of course, must also be given to the amazing staff here at WEK and have help and guided them towards this outstanding achievement. We cannot wait to see what the future holds for this amazing group of students."

Secondary Principal Gemma Thornley was equal in her praise for the Year 11 students, "I could not be prouder today of what these fantastic group of young people have achieved. After a difficult two years in education, receiving the validation for our students and staff that their hard work and perseverance has been successful is a reminder of just how resilient they are. I can't wait to welcome them back into sixth form next week to celebrate. They have excelled far beyond what any of us dared to dream."
Our GCSE toppers included Mariam Moursy and twin brothers Anirudth and Dhruv Manjithaya. Says Mariam, "I'm very happy with my results and am feeling grateful and thankful for my teachers because I would not have been able to achieve what I did without them. WEK has a very good support system, teachers help students who are struggling and are only a phone call or an email away."
Congratulations to all of our year 11 students on their outstanding results!