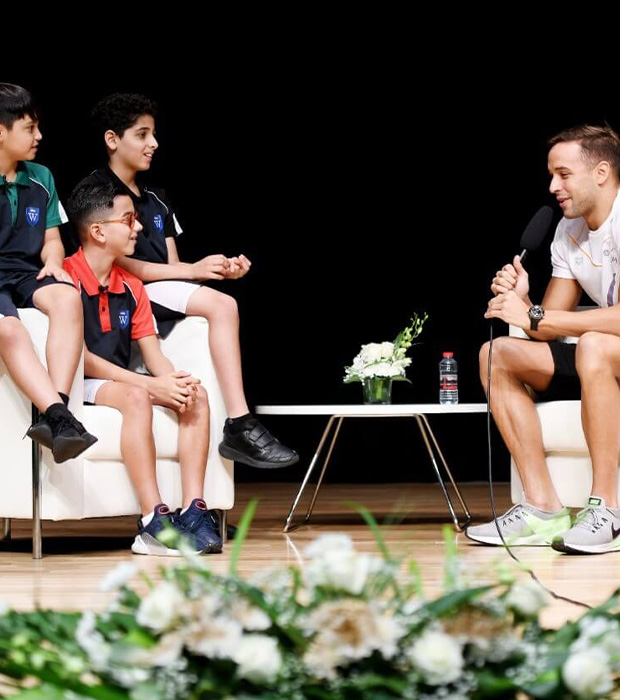 The Academy launches Swimming Centre of Excellence with World Champion Chad le Clos
It's not every day that you get to meet, hear and learn from, and get into the pool with an Olympic, World and Commonwealth Games Champion. But that's exactly what our talented swimming scholars had the chance to do when South African swimming sensation Chad le Clos – the man who famously beat Michael Phelps at the 2012 Olympic Games in London – visited the Academy to help launch our Swimming Centre of Excellence.
The whole school was buzzing with anticipation prior to Chad's arrival. Most excited, however, were three lucky students who had the chance to speak to Chad in an exclusive one-on-one interview. If they were feeling nervous or starstruck, they certainly didn't show it as they asked all the right questions and engaged Chad in a lively conversation. Here's how they got on:
Next up was a special swim clinic led by Chad in the pool. The four-time Olympic medallist, who had already trained in the Academy's swimming pool on a previous occasion, shared his insights and tips, demonstrating his techniques and offering individual guidance to our swimmers. Chad was joined by former Olympic swimmer and coach Dejan Pejinovic, who leads our Centre of Excellence, and together the two highly experienced athletes delivered a coaching session that our students won't ever forget. Watch the video below to see what they got up to.
The day with Chad culminated in a special scholarship award ceremony that took place in the school's auditorium in front of a packed crowd made up of the very best swimmers in Dubai and their families. Introduced by the evening's charismatic emcee Chris McHardy from DubaiEye 103.8, each of our 16 swimming scholars took to the stage to thunderous applause as Chad and the Academy's Principal Neil Matthews paid tribute to their incredible talents and potential.
This was followed by an engaging, insightful and often emotive discussion involving Chad, Principal Matthews and representatives from Hamilton Aquatics and Swim England. Together, our panellists highlighted the amazing opportunities afforded by the school's Swimming Centre of Excellence, the importance of building a strong partnership between students, parents and teachers, and the journey facing elite swimmers looking to reach the lofty heights of Chad's accomplishments. Naturally, Chad stole the show with his captivating stories and shrewd words of advice. Capped with the chance to pose for photos with Chad and get his autograph, it truly was a night to savour and remember.
VIDEOS OF OUR
Swimming Centre of Excellence
Watch the videos of our launch of the Swimming Centre of Excellence with World Champion Chad le Clos
Interview with Chad Le Clos

Launching the GEMS Wellington Academy - Al Khail - Swimming Centre of Excellence

Swimming Clinic