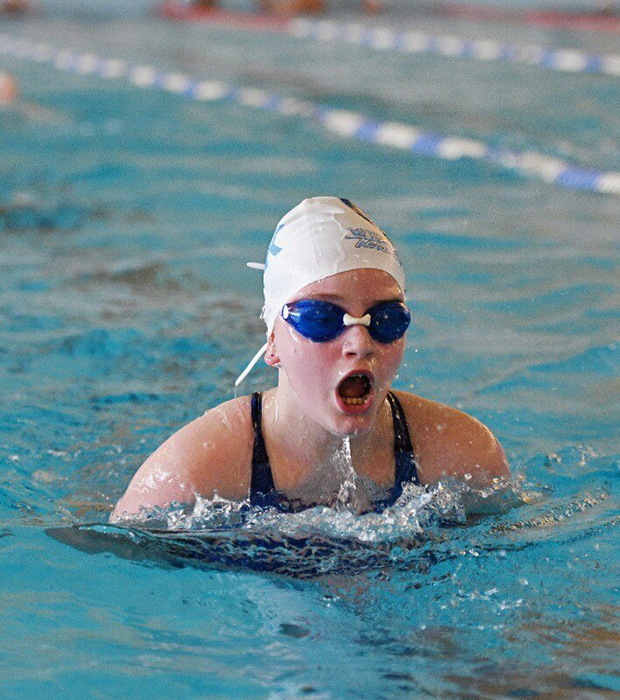 Naia Legarde
Parent Testimonial
At what age did Naia show an interest in swimming competitively?
Naia has been swimming since we came to Dubai in 2014. She was in Grade 2 when her PE teacher gave me a call to ask me if she could join the swim squad as she was really good at swimming. By that time we only knew she was able to swim, but nothing else. After a few months of training with the school, we decided to enroll her in a club and that's when she started training more seriously. She was 8 years old.
How often does Naia train?
Naia usually trains 5 or 6 times a week. She does two mornings before school starts from 5.30am to 7:00am. Some days her trainings are longer as she exercises in the gym.
Is Naia involved in any swimming competitions?
Naia competes normally once a month with her club (Hamilton Aquatics) and all school Galas with GEMS Wellington Academy Al Khail.
She sometimes competes abroad; her competitions out of Dubai were:
BSM Martins Open Heat (Oman) on 15th & 16th March 2019
Scottish Nationals (SNAGS) in Glasgow from 27th to 31st March 2019
Manchester Open on 5th, 6th, 7th April 2019
Spanish Nationals 19th, 20th, 21st July 2019
Naia competes normally once a month with her club and all school Galas with GEMS Wellington Academy - Al Khail. She sometimes competes abroad.

Ruth Dominguez

Mother of Naia Legarde, a competitive swimmer from GEMS Wellington Academy, Al Khail
Is Naia part of any swimming clubs?
Yes, Naia is part of Hamilton Aquatics, for us the best club in Dubai. Her coach, 'Stuart Sant' is helping her a lot in her swimming career. Naia is making big improvements in time and technique thanks to Stu's job with her.
What has the Wellington Academy Al Khail 'Swimming Center of Excellence' helped Naia achieve since joining the school in January this year?
We decided to move Naia and her sister to GEMS Wellington Academy Al Khail this January( 2019) having in mind that the 'Swimming Centre Of Excellence' programme itself won't be fully launched until September 2019, but we are taking some benefits from it so far. Since Naia has arrived at the Academy, everybody has been extremely helpful, she is allowed not to do P.E. or French lessons when she needs to do some homework. Teachers are aware of it and prepare some work so Naia doesn't miss anything. When her trainings with Hamilton are not just after school, Naia can stay in the library studying which helps me a lot with the drop offs and also helps her to optimize her time. She also has extra personalized trainings which are being very useful to improve some aspects Naia needs to work on. Another good thing is the lockers; swimmers are always carrying a lot of stuff for their trainings students at the Academy can store all they need there, so it is also quite convenient. So we can say we are very happy so far and the best is to come!
Since joining the Academy, how did Naia's schedule change significantly?
As I mentioned before, it's been better not only for Naia as she can optimize her time but also for me as 'mum driver' having to drop off and pick up two swimmers from different pools, sometimes at the same time. We hope that for next year, when the programme is fully running her training times are more convenient though.
Would you recommend the Academy's Swimming Centre of Excellence to other parents and why?
I definitely would recommend other parents the GEMS Wellington Academy Al Khail Swimming Centre of Excellence, in fact, I am already recommending it. I am encouraging other swimmers to come and try an open day, this will make them have an idea about the life at the Academy and they will have the opportunity to ask any questions to any of the students or staff, which for me and for Naia have all been extremely nice and helpful.
We are very happy to be a part of the Academy's family!