Innovation Programmes at The Academy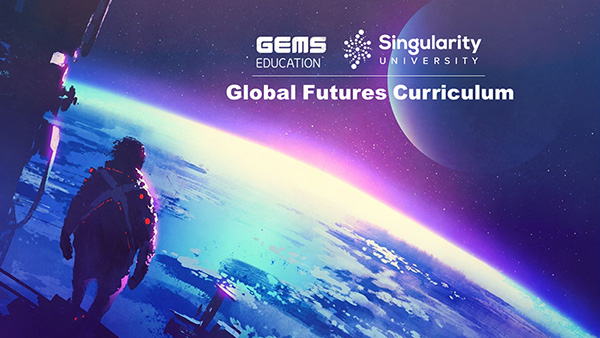 The Global Futures Curriculum
The Global Futures Curriculum (GFC) is a bespoke programme for high school students co-created by GEMS and Singularity University. The GFC provides students with the insight, conceptual framework and tools to understand the impact of exponential technologies and succeed in a rapidly changing society
The Global Futures Curriculum provides students with:
Deep intellectual insight into a range of exponential technologies
Conceptual frameworks for discussing the positive and potentially negative implications of these technologies
A "tool kit centred around design and critical thinking approaches that will help students to make more informed career and life decisions in an era of exponential change
An appreciation of the extent to which both students can leverage exponential technologies and address some of society's greatest challenges
Singularity University is a global community using exponential technologies to tackle the world's biggest challenges Their learning and innovation platform empowers individuals and organizations with the mindset, skillset, and network to build breakthrough solutions that leverage emerging technologies like artificial intelligence, robotics, and digital biology
Withtheir community of entrepreneurs, corporations, development organizations, governments, investors, and academic institutions, they have the necessary ingredients to create a more abundant future for all.
---

Future Talks at the Academy
The Academy Future Talks series aims to highlight the impact of emerging technologies and promote discussions on how we can adapt and thrive in a world of increased automation, ubiquitous A.I. and accelerating change.
We live in a world of accelerating change. Exponential technologies are disrupting and upending all sectors of society, including Education. To better prepare our students, teachers, parents and leadership teams for this uncertain future, the Academy has launched its Future Talks Sessions.
The Focus is on:
Future Education
Future Jobs
Future Technologies
Future Skills
Future Schools
Future Knowledge
The sessions also feature relevant videos from Dubai Future Talks – an initiative of the Dubai Future Foundation that gathers a global community of visionaries, change-makers, and pioneers. They believe in the strategic collaboration between the government and individuals to co-create the framework for the advancement of humanity.
---

The Academy Honours Programme
The Honours programme is a distinctive and exclusive programme certified by GEMS Education designed to take an interdisciplinary approach to learning and integrate the study of literature, the arts, science, philosophy, and future studies.
Through cross-curricular activities, field trips, and blended learning, the curriculum prepares a select group of motivated and curious students in high school to be leaders, critical thinkers, innovators, and inter-disciplinary problem solvers. This programme affords a distinct advantage to students when applying for Honours and Scholarship programmes in major universities around the world.
Click here for more information.
---
Astronomy at the Academy
A dedicated Astronomy programme is now on offer to middle school students at the Academy. UAE is at the forefront in space research in the Middle East: the Mohammed bin Rashid Space Centre, the Emirates Mars Mission, the UAE Space Agency, and the new Thuraya Space Observatory are all part of Dubai's vision to highlight the importance of science and space exploration.
The aims of the programme are:
To align the Academy with the nation's priorities and strategic initiatives in the fields of scientific innovation, space technology, and space exploration
To involve the Academy students in advancing sustainable development, and driving the vision for a knowledge economy in the UAE
To develop a sense of awe and wonder about the cosmos
To develop a broader, more scientific understanding of the Universe
To create a network of astronomy enthusiasts within the GEMS community of schools.
---

Phoebus Online
Students at the Academy now have the option of being contributing writers and editors of Phoebus Online – a future-focused e-Magazine that takes a techno-optimistic view of the future covers the latest news from the world of emerging technologies.
The focus is on research and analysis of current trends in technology, the impact of global innovations, and the ethical implications of artificial intelligence, robotics, and virtual reality.
Click here to view.
---

Future-focused Professional Development
Staff at the Academy have access to cutting-edge professional development in the areas of neuro-education and mind brain learning, impact of exponential technologies, and making the transition from STEM to STEAM.
Series 1: Neuro-education and Mind Brain Learning
Key Concepts:
Neuroscience
Mind Brain Education
Neuro-tools
Series 2: Impact of Exponential Technologies on Education
Key Concepts:
Moore's Law
Exponential Tech
Impact of A.I., robotics, and VR on education
Series 3: Transitioning from STEM to STEAM
Key concepts
Cross-curricular thinking
Inter-disciplinary problem-solving
Integrating the arts and science
---

GEM Innovation Leaders' Network
The Academy is the home base of the largest network of innovation leaders in the Middle East. Students and teachers from across the GEMS network meet to share good practice and discuss the latest updates from the world of edtech, future pedagogy, and new educational models.
Due to the exponential growth in emerging technologies we've seen more change in the last hundred years than we have in the previous thousand. Thomas Friedman, the Pulitzer Prize-winning journalist, points out that whatever can be outsourced and automated will be outsourced and automated. To this Kevin Kelly (founder of Wired magazine) adds, "Whatever can be done by artificial intelligence will be done by artificial intelligence." Peter Diamandis (co-founder of Singularity University) says artificial intelligence will have a bigger impact on the human condition than did the invention of electricity and the discovery of fire. We now witnessing what is being described as the cognifying revolution. What that means is everything that was formerly electrified will now be cognified. In other words, everything that has electricity today, will have some form of artificial intelligence tomorrow.
The GEMS Innovation Leaders' network meet to discuss the impact of current and future trends in education and society and also share solutions.
---

Awecademy Online Modules
Students at the Academy now have free access to the entire suite of Awecademy's award-winning and future-focused interdisciplinary educational modules. Awecademy is based out of Dubai Future Foundation's AREA 2071 and part of KHDA's cohort 7 at Dubai Future Accelerators.
These multidisciplinary modules take less than an hour to complete and focus on the critical survival skills of the future. Identified by the World Economic Forum as one of their top-20 global edtech solutions for a post-pandemic world, these modules are designed to encourage learners to see the big picture, take a cosmic perspective, have a species-wide positive impact, and help bring about positive civilization-level change.
Students will also have the opportunity to visit and learn at Awecademy's home base: 'HP Innovation Garage' at Dubai Technology Entrepreneur Campus. The lab is designed to help students from universities and schools develop transferable skills and spark their interest in technology, designing and prototyping.
Click here to view full the catalogue of online modules.
---

My Path to Uni
The Academy is the home base of My Path to Uni - a new consortium of high-profile education providers offering both online and offline best-practice college and career guidance resources and services to students.
My Path to Uni offers custom solutions for traditional university admissions and resources for acceptances to globally-ranked universities. They also offer guidance for non-traditional pathways even during high school – for any curricula or country option. Their local and global solutions will help guide students at any age, grade or success-level to a holistic, comprehensive pathway for any post-secondary option, be it foundation programmes, exam preparation, tutoring, online supplements, career experiences, internships, elite admissions, psychometric testing, graduate school, summer, enrichment programs, life coaching, and beyond.
Click here to learn more.