The Academy Education
Sixth Form
Achieving the very best grades possible at Post 16 is more than just about the learning that takes place in the classroom. In order to be a high achieving student, we strongly believe that they must possess a set of non-cognitive skills and key characteristics which will lead to educational success. At GEMS Wellington Academy AL KHAIL, we believe your mindset and skill set can be developed and enhanced throughout your studies, allowing for a successful transition into the pathway of your choice.
Drawing extensively on academic research and classroom experience, we have adopted a system that supports student learning, helping every learner become the best they can be. We have highlighted 5 key components to success which can be developed in all students.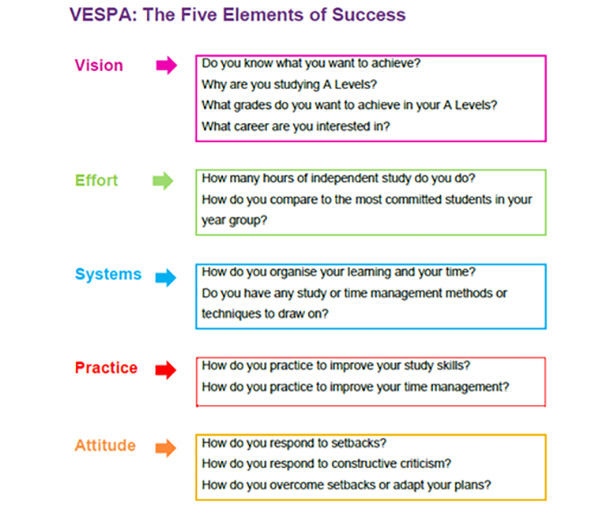 By possessing all 5 elements of VESPA, it will lead students to meet their true potential and achieve academic success. The VESPA programme is an integral part of our curriculum which is delivered by specialist staff.
Life at the Academy

Hear what our Head Boy and Girl have to say about life at the Academy

Curriculum Overview

We are a British Curriculum School that offers A Level, International A Level and BTEC International qualifications during Post 16 education

Post 16 Elite Sports Programmes

We will be offering the first Football and Swimming Elite Sports programme in the UAE run for Post 16 students

Subject Overviews

View our subject options, overviews, and pathways

Applying From Another School

Our Admission Team will support you with the application process and will be the point of contact from initial enquiry to making subject choices.

Careers Guidance

The Sixth Form students also benefit from the advice and support of our Careers and University Adviser and the MPTU team

Life Beyond The Classroom

View our student leadership opportunities and extra-curricular activities