FS at the academy
Foundation Stage
The Foundation Stage department at GEMS Wellington Academy - Al Khail, provides outstanding early years learning for children between the ages of three and five. Our core aim is for young children to develop a broad range of knowledge and skills across seven key areas of learning. Ultimately, our belief is that secure development in these areas will build firm foundations for future learning throughout school and life. Across the school, from the Foundation Stage to Secondary, we follow the National Curriculum for England. This includes the Early Years Foundation Stage Curriculum, targeted at children from birth to five years.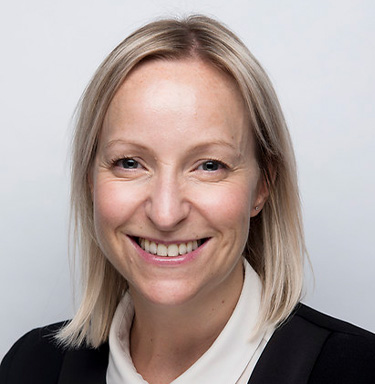 Paula Phinn
Primary Vice Principal
WELCOME TO FOUNDATION STAGE!
At GEMS Wellington Academy - Al Khail, we provide high-quality, personalised learning experiences for children across the school, including the Foundation Stage. We believe that children learn best when they are provided with stimulating environments and engaged in topics or themes which relate to their own interests and real life...
Foundation Stage Overview
During their time in FS1 and FS2, children work towards seventeen Early Learning Goals to ensure that they are well prepared to transition to Primary School. Our teachers carefully plan and prepare engaging activities which motivate and inspire children to learn. We personalise learning for every child, supporting and extending learning for unique abilities. At this early stage, we believe that children learn best through self-initiated play, with adults acting as 'partners in play' to drive learning forwards through their skilled use of dialogue and classroom resources.
We strive to work in full partnership with parents, sharing information, progress and achievements throughout the year to best support children's learning in school and at home. We have three formal parents' evenings across the school year, however we have an open-door policy and encourage parents to meet teachers frequently to discuss progress and next steps in learning. We also offer regular opportunities for parents to 'drop in and join in' with learning in the classroom.
Explore the Foundation Stage (Early Years)
Communication and Language Development

Giving children opportunities to speak and listen in a range of situations and to develop their confidence and skills in expressing themselves.

Providing opportunities for young children to be active and to develop their co-ordination, control, and movement. We develop both gross and fine motor movements to support health, cognitive development and prepare children for writing. Children must be helped to understand the importance of physical activity, and to make healthy food choices.

Personal, Social and Emotional Development

Helping children to develop a positive sense of themselves, and others; to form positive relationships and develop respect for others; to develop social skills and learn how to manage their feelings; to understand appropriate behaviour in groups; and to have confidence in their own abilities.

Encouraging children to read and write, both through listening to others reading and beginning to read and write themselves. Children must be given access to a wide range of reading materials: books, poems, and other written materials, to ignite their interest.

Providing children with opportunities to practise and improve their skills in counting, calculating simple additions and subtractions, and to describe shapes, spaces, and measures.

Guiding children to make sense of their physical world and their community through opportunities to explore, observe and find out about people, places, technology and the environment. This area of the curriculum includes a focus on early Science discovery.

Expressive Arts and Design

Supporting children to explore and play with a wide range of media and materials, as well as providing opportunities and encouragement for sharing their thoughts, ideas and feelings through a variety of activities in art, music, movement, dance, role-play, and design and technology.

Foundation Stage Specialist Lessons

In our Foundation Stage, we offer a range of additional specialist lessons: Arabic, Music, Drama and Physical Education, including swimming. In addition to developing specific knowledge and skills, specialist lessons play an important part in personal, social and emotional development at this young age, as children respond to a range of adults across our specialist facilities.

Arabic

Our specialist Arabic curriculum mirrors our English curriculum and from a young age children are exposed to stories, songs, rhymes, letters and sounds which form the basis of early Arabic literacy. Arabic lessons take place twice weekly, with additional sessions for Native Arabic Speakers in FS2.

Music and Drama

Our specialist Music and Drama lessons enhance our Expressive Arts and Communication & Language curricula across the Foundation Stage. In addition to everyday in-class activities, children have additional opportunities to explore sounds including rhythm, pitch and melody. They learn to handle and play a range of instruments and explore their use of voice. Our Drama lessons encourage imaginative and creative role-play – invaluable to learning and development at this age. Our Drama curriculum supports oral and receptive language and provides additional opportunities for physical activity and movement. Our children also explore key social and emotional themes through stories and role-play.

Physical Development

At the academy, we place high-emphasis on physical development. At this early stage, physical movement plays a key role in brain development and cognitive function. Our carefully designed outdoor and soft play areas provide daily opportunities for children to explore and develop gross-motor movements, including climbing, balancing, jumping, running and cycling. Our weekly PE lessons develop core movement skills and interest children in sports from an early age, including gymnastics and athletics.

Enrichment and Extra-Curricular at the Academy

At the academy, our twice-weekly enrichment sessions allow children to develop interests and skills beyond the statutory curriculum and include activities such as gardening, cooking, yoga, 'chillax' and 'busy bodies'. These activities place a high-emphasis on developing positive and trusting relationships with peers and adults. Enrichment sessions continue across the Primary school as part of our student well-being programme. We also give all children regular opportunities to showcase their learning through celebratory events in our school auditorium. From a young age, students develop confidence as they take part in a variety of performances and events.

Our after-school extra-curricular activities (ECAs) support academic, social and physical development. Our ECAs include clubs such as:

Playground Games
Mini Mindfulness
Arabic Stories
Little Architects
Drawing and Scissor Skills
Phonics Games
Singing & Dance
Frequently Asked Questions
Do I need to provide lunch for my child?

We have a school cafeteria where food can be pre-ordered online for our FS students. We offer a range of healthy foods across the week. Food from the cafeteria is delivered to FS department at lunchtime, and children eat with their friends in the FS lunch area. Alternatively, you may choose to provide a packed lunch for your child. Lunchtime is an important part of the day for our FS children, where positive social development is encouraged and valued.

When does the school day start and end?

The school day begins at 7:50 am for all students. We offer a 'soft start' to the day with classes opening at 7:25am to welcome students before registration.

Children in FS1 finish at 12:30 pm every day and FS2 children at 1:30 pm from Monday to Thursday. On Fridays all students from FS1 through to Secondary finish at 12:00 pm. We offer free after school care for FS1 children until 2:40 pm Monday to Thursday.

How many adults are in each FS class?

We have one Teacher and one Teaching Assistant in every Foundation Stage classroom. Our Teaching Assistants accompany children to their specialist lessons with specialist Teachers. Our small class sizes ensure that all children experience personalised learning to enable them to quickly meet their next steps.

Do you offer digital learning in FS?

Yes. All FS classrooms have an interactive whiteboard to support learning across the curriculum, including child-led technological play. Children have daily access to iPads, electronic toys and programmable toys. We value digital learning from a young age, but also closely monitor the time children spend on solitary technology-based activities to ensure that they are constantly learning from and with others.

Do you offer a bus service?

Students from FS1 have access to the School Transport Service. Our Teaching Assistants and Bus Conductors accompany children to and from the bus daily, ensuring there is always an adult-to-adult handover. CCTV, GPS tracking, live updates and 'sleeping child' checks are some of the key safety features on board our STS buses. For more information about our School Transport Service please click here.
FOUNDATION STAGE 1 & 2
Extended Care
At GEMS Wellington Academy - Al Khail, we understand that having access to high quality childcare, beyond the school day, is important. We therefore offer an exciting and engaging extended childcare programme that aims to build on key skills that form the foundations of child development and provide parents with a convenient alternative childcare option.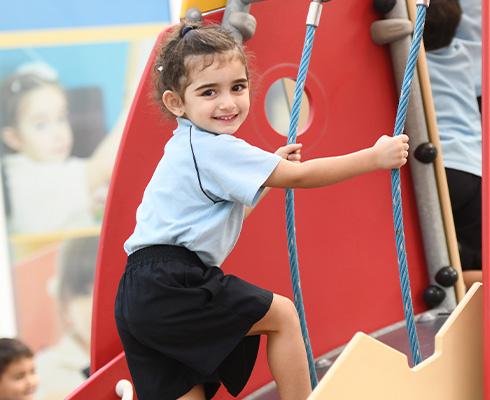 Explore All Our Curricula
Foundation Stage

Early years learning for children between the ages of three and five.

Primary School

Primary learning for children between the ages of five and eleven.

Secondary School

Key Stage 3 and 4: Years 7-11

Sixth Form

We offer A Level, International A Level and BTEC International qualifications during Post 16 education.